Pavement Light Repairs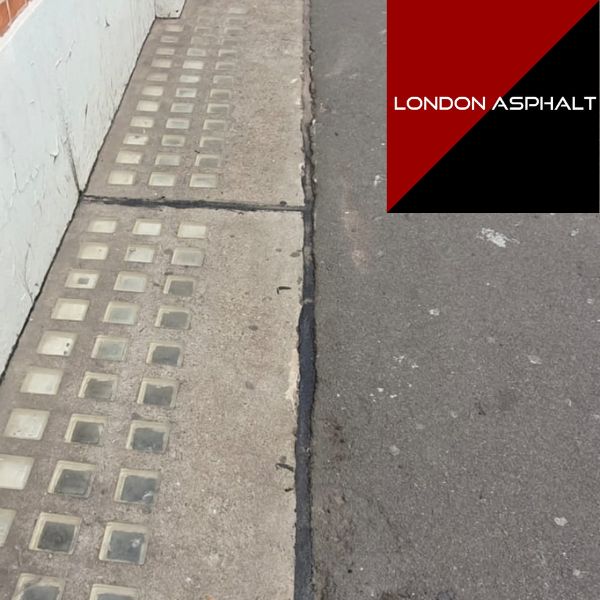 London Asphalt provide a specialist pavement light repair service. As well as offering repairs we can also provide a maintenance service. We are able to offer hybrid solutions to defective pavement lights. These solutions comprise of mastic asphalt, liquid waterproofing and anti-slip products. We cover all of the London area and further afield for select jobs. For any pavement lights the team at London Asphalt are asked to repair, they will analyse the desired outcome and propose the best solution.
If you would like a quotation or any information about repairing pavement lights please get in touch via our web form or call us now on 07739207726.
What Are Pavement Lights?
Pavement lights are small glass blocks which are set into the pavement. The reason for these lights is to provide a means of allowing natural light to enter underground spaces such as basements and cellar areas. Pavement lights are used in small glass blocks. Like smoke outlet panels, pavement lights are preferred over large roof lights and windows. This is due to space constrictions and safety requirements in large cities. Normally these lights are set in metal frames with glass covers. The joints are filled with mastic asphalt or a liquid waterproofing product. To allow for anti-slip properties which are essential in areas enduring heavy foot traffic such as Central London a PU clear coat can be applied over the floor lights.
What Are The Common Defects With Pavement Lights?
Pavement lights can face several problems which can affect their functionality and appearance. This includes:
Water Damage from Leaks: Pavement lights can leak, if the leak becomes bad enough the interior space below the lights can suffer from water damage. If a leak is spotted early enough small remedial work may be able to fix the issue. In some cases, complete reseals will be required.
The Glass Covering Can Be Cracked: Due to having to withstand heavy foot traffic and extreme weather conditions, pavement lights can develop cracks. Obviously a crack is an opportunity for water to enter. Any cracks on existing pavement lights should be stopped as soon as possible to prevent water damage. In many situations pavement lights repair is possible by using a PU liquid coating. However, in extreme cases replacing pavement lights with cracks may be necessary.
Corrosion To The Metal Frame: Over time water ingress can cause the metal frames of the pavement lights to corrode. As this rust develops the integrity of the pavement lights can be compromised. Often the result is more water ingress and higher potential for water damage to the interior space below.
Poor Installation: Sometimes pavement lights are not installed correctly. Typical problems with installation include misalignment or the existing pavement lights settling unevenly. This again makes leaks and water damage more likely.
Sunlight Damage: Constant exposure to sunlight can cause the glass or plastic light covers to fade and discolour over time. The problem with this is they will become less aesthetically pleasing and more opaque.
Like any other waterproofing problem, regular maintenance work and inspections are vital. And fixing problems in their early stages is the best course of action. The reason for this is the cost of repair is far less than the costs incurred from water damage.
How To Repair Existing Pavement Lights: A Step By Step Guide
• The defective mastic asphalt seal needs to be cut out. This means all of the asphalt will be removed down to the level where it meets the pavement light bearings.
• Then, the area is cleaned and torch dried.
• After this, the next step is to use a primer to prepare the area for re-surfacing with mastic asphalt.
• Once the primer has been left to cure. Fresh asphalt is poured into the gap to provide a waterproof seal for the pavement lights.
• Next a high module liquid waterproofing product can be used across the joints.
• If anti-slip properties are required for the pavement lights a PU clear coat can be applied over the the surface.
Need Some Help With Pavement Lights Maintenance Work
If you would like a quotation for pavement light maintenance works or need any information about pavement light repairs in general please get in touch. You can use our web form or call us now on 07739207726. One of the team will be delighted to help.