Asphalt Flooring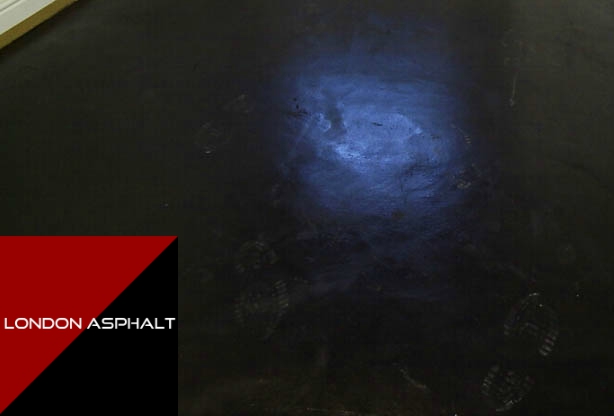 London Asphalt offer a complete asphalt flooring installation and repairs service. No matter how big or small your flooring repair work or installation is our professional team will be happy to help you. With a wealth of experience and insurance backed guarantees you can be sure any work carried out on your mastic asphalt flooring will be to a high standard, completed as agreed and problem free for years to come.
For a free quotation or any advice regarding mastic asphalt flooring please get in touch with us through one of the following methods, web form, email (estimates@asphaltroofinglondon.co.uk) or you can call us on 07739207726.
What Is A Mastic Asphalt Floor?
Mastic asphalt flooring is a great way to provide waterproofing for your flooring whether externally or inside your building. The main difference between interior and exterior asphalt flooring is in the thickness of the asphalt laid. This is the same as in asphalt roofing where an asphalt roof which is used as a loading bay would have a greater nominal thickness than a standard roof.
Flooring in mastic asphalt is a very effective way to damp proof a floor. It is extremely durable, carbon zero rated, easily repaired and will outlast almost every other floor waterproofing system. Another key benefit of asphalt flooring is the minimal disruption the installation process causes. After just a few hours all furniture and carpets can be put back on the floor, meaning you can get back to using your flooring.
Why Choose Asphalt Flooring?
• Fast Installation Process Which Minimises Disruption
• Environmentally Friendly Material Which Can Be Recycled
• Asphalt is Carbon Zero Rated
• Long Track Record As An Excellent Damp Proof Membrane
• Installed By Highly Skilled Asphalters
• Very Durable And Capable Of Withstanding Heavy Foot Traffic
• Can Be Used Internally And Externally
• The Flooring Mix Can Be Customised To Add Traction and Tolerate Heavy Foot Traffic
Asphalt Floor Repairs
One of the desirable characteristics of mastic asphalt flooring is it can be easily repaired and does not require the whole floor to come up.
To repair an asphalt floor, the problem area is first identified. Then using the 'hot poultice' method' the asphalt will be softened around the perimeter of the area which needs to be repaired. Using a hammer and bolster the operative carrying out the repair work will cut into the asphalt and remove it with a shovel.
The expose perimeter is now cleaned to create a break joint. Next, sheathing felt or staple tissue is laid. Then 1 or 2 coats of asphalt are laid to the nominal thickness of the rest of the flooring.
Then the edge joints are reheated and the asphalt is remade to create a fusion joint with the rest of the mastic asphalt. Finally, the asphalt is rubbed with coarse sand and left to cool.
Get in Touch With London Asphalt
If you would like a free quotation or any advice regarding mastic asphalt flooring please contact us through one of the following methods, web form, email, or you can call us on 07739207726. One of our asphalt specialists will be happy to help you.