Asphalt Car Park Repairs and Car Park Waterproofing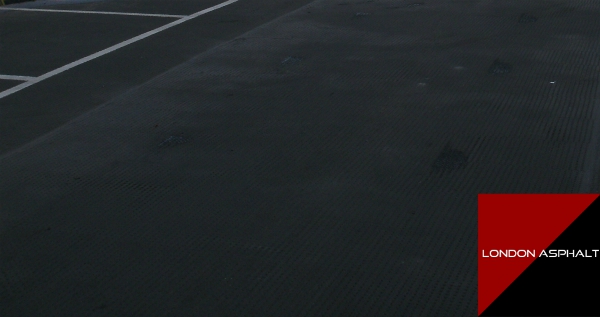 London Asphalt offer car park waterproofing and maintenance services for car park repair work and surveys. No matter how big or small the car park works you need are, our professional team will be happy to help you. With a wealth of experience, you can be sure any repair or waterproofing work carried out on your car park will be carried out to a high standard, completed as agreed and with a high quality finish. We offer our car park services throughout the UK.
For a free quotation or any advice regarding car park repair works and waterproofing please email us at estimates@asphaltroofinglondon.co.uk or call us on 07739207726.
Why Asphalt Is The Best Choice for Car Park Waterproofing
Mastic Asphalt is known as 'The King of Waterproofing' for good reason. It has stood the test of time and proven itself to be a reliable waterproofing membrane across a variety of applications. Mastic asphalt is a mixture of bitumen (either natural or with added polymers) combined with limestone aggregates. When delivered to a site it arrives in block form and is heated into a molten liquid. This molten liquid is then spread with a wooden float or a spatula. Once spread this molten asphalt cools and forms a watertight coat making the application it covers waterproof.
Aside from having fantastic waterproofing properties asphalt is carbon zero rated and fully recyclable. This makes it especially attractive to the specifier who is conscience of a project being environmentally friendly.
Additionally asphalt is extremely cost effective. The reason for this is because asphalt is long lasting and easily repaired if problems occur. When you take the cost of asphalt car park waterproofing and divide it by the number of years of service life before a replacement is needed, it compares extremely favourably with all other options. Also when problems occur and car park repair work is necessary only the affected area must be shut off allowing the rest of the car park to function as normal.
Summary of the Benefits of Using Mastic Asphalt for the Waterproofing of Car Parks
• A Long Service Life and Great Value For Money.
• Asphalt Has Stood The Test of Time.
• Extra Grit Can Be Added To Asphalt Used For Car Park Deck Waterproofing To Endure Heavy Use.
• Simple Installation Process.
• Asphalt Is 100% Recyclable and Is Carbon Zero Rated.
• Asphalt Has Stood The Test Of Time (has been an effective waterproofing membrane for 100 years plus) .
• Asphalt Car Park Repair Is Simple and Inexpensive with Minimum Disruption (Unaffected Areas of the Car Park Can Remain Open).
Car Park Repair With Mastic Asphalt
One of the main benefits of choosing to waterproof a car park in mastic asphalt is how easy car park repair work is to conduct when the need arises. Asphalt is one of the few construction materials which is 100% repairable. The ability to easily conduct repair works with mastic asphalt for common car park faults such as pothole repairs, defective expansion joints and blows in the asphalt surface of the car park deck make mastic asphalt a very cost effective choice for car park waterproofing. The reason for this is the ease and cost effective nature of repair work to defective areas extends the car parks longevity making it compare very favourably with other waterproofing systems on a cost per year basis.
Additionally, when asphalt repair work is conducted only the affected area must be closed meaning business can carry on as usual. This is particularly attractive for supermarket, shopping centres and any other types of car parks which rely on customers parking for them to conduct their business.
How Asphalt Car Park Repair Work Is Conducted
Pothole Repair
Pothole repair work is a common problem encountered by car park owners. The reason for the formation of potholes is normally down to the substrate breaking down. A lot of the time this is because expansion joints crack due to the thickness of the asphalt not being enough and over time as vehicles repeatedly drive over the cracked expansion joint potholes begin to form. To repair a pothole a square around the affected area is cut. This is done using the hot poultice method to heat the asphalt, then to cut around the square and remove the affected asphalt with a shovel or pick.
Next the area is cleaned out, with all joints warmed, cleaned and chipped. Next, if there is any moisture in the substrate this is dried out and re-primed. Once this is sheathing felt is laid, the asphalt waterproofing layers are added and a break joint formed. Then the top coat of asphalt with added grit is applied to give the car park surface a hard finish. The final step is to heat all the joints and to create fusion joint between the new and the old asphalt. Once this is completed you will have a high quality repair to the defective area.
Car Park Deck Repair
Repairs to the deck of an asphalt car park such as blows or cracks in the surface follow a similar repair procedure as potholes. The affected area is cut back with a grinder or using the hot poultice method. Next once the asphalt is removed the joint are cleaned with any moisture being dried. Primer is applied then sheathing felt and the waterproofing coats of mastic asphalt are re applied to form a break joint. Then the coat of asphalt with extra grit is applied to provide extra hardness. All joints are heated to merge the old asphalt with the repair to create a fusion joint. The application of heat to the old asphalt draws the bitumen to the surface.
Car Park Upstand Repair
Upstands are a common failure point on asphalt car parks. Once upstands begin to fail there is a high probability of water ingress occurring. To remedy a failing upstand, you must remove the existing upstand, dry out the area it was covering then apply primer. Once the primer is applied the upstand can be replaced with a double angle fillet at its base. The top of the upstand should be pointed in sand and cement mortar.
Would You Like Advice Or A Quote For Asphalt Car Park Repairs Or Waterproofing?
If you would like a free quotation or any advice regarding car park repair work,waterproofing or our maintenance services please contact us through our email address; estimates@asphaltroofinglondon.co.uk or call us today on 07739207726. One of the friendly London Asphalt team will be happy to help you.