Mastic Asphalt Tanking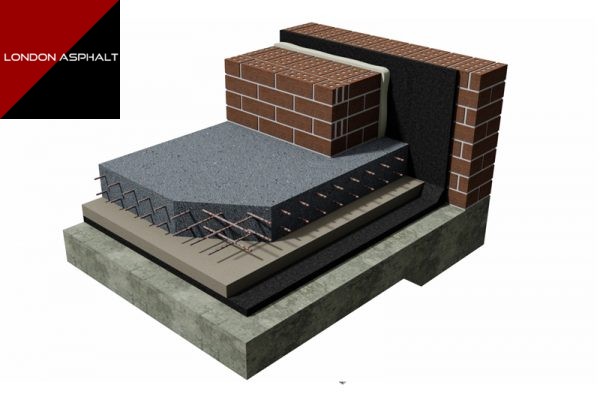 London Asphalt offer a complete mastic asphalt tanking service. With a wealth of experience and insurance backed guarantees you can be sure any work carried out by our professional team will be finished to a high standard, completed as agreed and problem free for years to come.
For a free quotation or any advice regarding mastic asphalt tanking please email us at estimates@asphaltroofinglondon.co.uk or call us on 07739207726.
What is Mastic Asphalt?
Mastic Asphalt is hardwearing, highly adaptable material widely used by the construction industry for roofing, tanking and basement waterproofing. Mastic Asphalt1 arrives on site as blocks that workmen then break down by hand with a sledge hammer. Once this is done they then expose the mastic asphalt pieces to 220-degree heat, which transforms it into a malleable mass that can poured or spread by asphalt specialist over a wide range of surfaces to provide an unrivalled level of waterproofing and durability.
Once heated into a malleable form, asphalt specialists will then spread and guide the molten liquid across the desired area using handcrafted floats. It provides a smooth, continuous surface as well as asphalt mastic having properties that stop water from penetrating into the flooring or roofing.
How Is Mastic Asphalt Formed?
Mastic asphalt traditionally consists of graded limestone and course aggregates that have been bound together with superior bitumen and asphaltic cement. The advancement in knowledge of the substance mastic asphalt has meant that, in recent years, it is now formulated to include polymers - which increase the substances durability2.
Why is Mastic Asphalt Ideal For a Waterproofing Membrane?
The principle of tanking is to prevent any subsoil water from the ground saturating a building or property. Typically, a basement will be put under duress from the ground water and due to mastic asphalt being extremely waterproof it has been the ideal choice for decades as a reliable tanking system. Further to this, its desirability is increased due to it being an environmentally friendly material with a carbon rating of zero3.
In the construction industry, mastic asphalt is often referred to as the 'King of Waterproofing' due to its amazing waterproofing qualities. Where it is used in a diverse range of applications including flat roofs, steps and walkways. There are three key reasons for this fantastic material's popularity:
1) The nature of it's composition makes it easy to shape and mould around any architectural mishaps.
2) It is a highly versatile material which can be applied to almost any substrate.
3) Finally, it is ideal for complex detailing and is perfect to use in hard to reach areas such as soil vent pipes and around plant machinery.
By choosing to waterproof your basement with mastic asphalt as your underground waterproofing membrane, you can rest assured that you are using a time-tested tanking system.
Summary of The Advantages of Tanking Your Basement With Mastic Asphalt
• It is a reliable form of basement tanking that has been tried and tested for decades.
• Highlight versatile material that can be used on a range of substrates
• Often referred to as 'The King of Waterproofing' by professionals
• It has a carbon rating of zero3
Why is it a good idea to tank the basement of your property?
There are numerous benefits to protecting your property by putting a basement tanking system in place. Let's summarise them below:
• It provides protection for your property against any structural damage that can be caused by water entering your basement.
• It protects from the risk of basement cracks, which occur when water levels rise in the ground and cause swelling and pressure on the buildings flooring.
• It helps to reduce heating bills as basement tanking is proven to reduce humidity levels within buildings.
• It prevents your property from basement flooding.
• It can drastically reduce the cost of your house insurance. 20 percent of insurance claims are directly linked to water damage.
Things to consider when 'tanking' your basement
• It's always best to assume that the start of the ground water is from the outside ground level down to the lowest point of a basement as this will allow for any season fluctuations in the water levels.
• Remember that water pressure increases the deeper below ground level you go. If you are interested in calculating your basements water pressure you can use this formula as a guide:
kN/sqm = 9.8 x metres below the water level
*Water pressure is exerted equally in all directions
Mastic Asphalt Tanking Systems
Not only is mastic asphalt tanking one of the eldest methods of taking it is also the best and can be applied either internally or external to buildings, with the later system usually used for underground structures. Internal tanking is where the mastic asphalt waterproofing is applied inside the property, whereas external is where the mastic asphalt layer is applied to the outside of the property.
A mastic asphalt specialist will be able to advise which tanking system your property needs by looking at the specific conditions of your structure. Where possible it is preferable to use external tanking due to the nature of how water pressure works to push at a surface. With external systems the water will push the mastic asphalt layer into the structure - thus tightening protection, whereas with internal it is forced away from the structure.
As mentioned previously, the method of laying mastic asphalt means that it creates a seamless waterproof layer or 'tanking', to both floors and building foundations; providing necessary protection from any moisture that rises up from the earth. Tanking is particular crucial in locations that have lots of buildings below surface level, such as London, United Kingdom.
How External Tanking is applied
• Before mastic asphalt can be applied to the walls of a basement it is important to check that the concrete base extends 150mm or more beyond the basement walls outer face.
• Asphalt specialist will apply a horizontal coat of mastic asphalt onto the base concrete in three coats that come to the combined thickness of at least 30mm and will extend over the entire area of the concrete slab.
• Straight after the asphalt has been applied, workers will then lay sand and cement screed (of at least 50mm thickness) across the surface to protect the newly laid mastic asphalt from any damage from the next stages of work.
• A loading coat of concrete is then laid over the top of the 50mm layer of sand and cement screed. It is important to note here that the specialist tanking team will have worked out the exact strength need from the concrete to withstand the maxim level of water pressure that workers anticipate it could face. Until this concrete layer has been applied no other work can take place.
• Now the team will build the basement walls on top of the loading coat of concrete. They will remove the protective screed and any building paper from the mastic asphalt. Once this is done, the external face of the walls will be given three coats of mastic asphalt building up to a thickness of at least 20mm.
• There will be a slight gap between the external wall and the mastic asphalt 'pick-up' joint so a two-coat angle filet must be applied. Workers will need to ensure that the 'pick-up' area is completely devoid of any contamination when creating this angle filet; so that there is complete fusion between the asphalt and the external wall and therefore ensure it is completely 'waterproofed.
• Now a protective wall will be constructed against the upright mastic asphalt taking membrane. Workers will leave a 40mm gape between the protective wall and the mastic asphalt which they will fill with solid mortar throughout the working process. This 40mm gap is an essential element when creating a sound tanking system as it protects the mastic asphalt membrane from: any negative effects of solar heating, any future excavation works and potential damage during the backfilling operation.
How Internal Tanking is applied
• When installing an internal tanking method, the concrete base and structural walls are completed first.
• Then the mastic asphalt is able to be laid the asphalt work will be completed in a continuous method in order to create a reliable waterproofing membrane that is devoid from outside contamination.
• Once again, the horizontal mastic asphalt will be applied in three coats followed by the vertical mastic asphalt which is applied to the walls all with at least 30mm thickness for the horizontal application and 20mm for the vertical.
• In the same fashion as external tanking, workers will now spread a 50mm protective layer of sand and cement screed across the horizontal coat of mastic asphalt. Workers tend to apply this layer before moving onto the vertical mastic asphalt coats.
• Following the horizontal and vertical coats of mastic asphalt being applied the asphalt specialist will use an angle fillet (as described above) to ensure the system is not only water tight but to also prevent any moisture penetrating the structure.
• Finally, the structural concrete slab is be laid, followed by the loading walls being erected. Once again, the structural team will have ensured that the concrete slab used is able to withstand the highest anticipated water pressure the building will receive.
Checklist of Things to Remember During The Tanking Process:
Pumping:
• During the mastic asphalt tanking process, workers will need to make sure that the ground water table is kept below the level of the base concrete. They can achieve this by continually pumping while the brick mortar or concrete walls are hardening.
• Further to this, it is the job of the main contractor to ensure that should there be any problem with the main pumping mechanism an alternative source is readily available.
Backfilling:
• Backfilling must not take place until all the tanking and loading is finalised.
The Concrete Slab:
It is essential that the concrete slab is able to withstand any superimposed loads that are applied as any movement could create cracking of the mastic asphalt.
The slab needs to be as dry as possible, with no holes, whilst also being clean from any dirt, debris or grease.
The process of laying the mastic asphalt and damp proofing the area needs to be continuous to prevent any water ingress's occurring.
Finally, the material used for the damp proofing needs to be suited to the composition of the mastic asphalt.
Need A Quotation Or Some Advice About Mastic Asphalt Tanking?
To get a quotation or any advice regarding mastic asphalt tanking please feel free to contact the team at London Asphalt us on 07739207726 or email us at estimates@asphaltroofinglondon.co.uk. One of our mastic asphalt tanking specialists will get back to you as soon a possible.