Mastic Asphalt vs Asphalt Shingles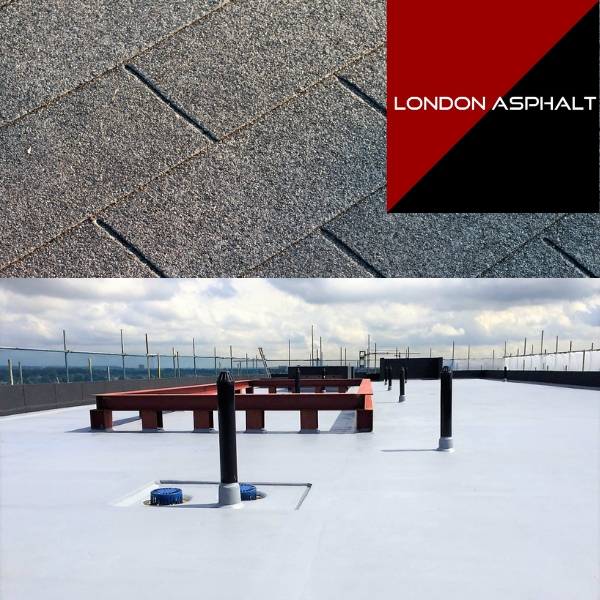 Mastic asphalt and and asphalt shingles are two different building materials used for roofing. However, they are often confused as the same thing. Let's look at the difference below:
Mastic Asphalt: Mastic asphalt is a hot-applied seamless roof coating. It is made from a combination of asphalt, aggregate (such as limestone), and filler. Traditionally Lake Asphalt was used in mastic asphalt but in modern times polymers are added. Different grades of asphalt have different compositions. Mastic asphalt is most commonly seen on flat roofs across Europe and the Commonwealth. Historic building such as "The Tower of London" and "Buckingham Palace" make extensive use of this building material. Mastic asphalt has developed an excellent reputation for it's long life expectancy, durability and phenomenal waterproofing properties. Mastic asphalt is applied in a liquid state and creates a seamless and impermeable layer over the roof deck. Great skill is required to install mastic asphalt properly and quality asphalt spreaders are becoming extremely rare.
Asphalt Shingles: Asphalt shingles are very popular across North America. They are ideal for the timber framed buildings found across the territory due to their light weight. This roofing material is manufactured using fibreglass or organic materials. It is covered with a layer of asphalt and the top is finished with mineral granules. They reason for the popularity of asphalt shingles is due to their low price, simple installation process and the availability of numerous colour schemes. Asphalt shingles are single pieces applied in a tile liked format. They are used to waterproof pitched roofs.
The main difference between mastic asphalt and asphalt shingles is, mastic asphalt is applied to flat roofs and asphalt shingles are applied to pitched roofs. It must be noted mastic asphalt can also be applied to a variety of flat surfaces such as balconies, flooring and basements.
Other differences include; mastic asphalt is a hot-applied seamless liquid used for flat roofs, while asphalt shingles are individual pieces used for pitched roofs. Of the two materials mastic asphalt is typically more durable with a longer lifespan. However, asphalt shingles cost less money and offer an easier installation process.